Cheap Flights To New York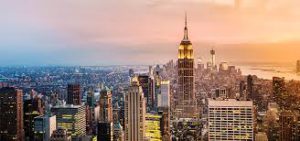 Besides the 'Big Apple' New York's known as New York City (NYC) or the City of New York, differentiating it from the State of New York. Located on one of the largest natural harbours in the world it comprises five boroughs; Manhattan, Queens, Brooklyn, Staten Island and the Bronx, all of which are counties of New York State that were in 1898, merged into one city. As one of the busiest cities in the world people are always trying to find cheap flights to New York to save where possible.
Peak Season
October through to December is the beginning of the holiday period with visitors and locals flocking to the NYC and its wonderfully festive atmosphere. This is one of the busiest periods for the airlines offering flights to New York. Around a million people just want that once-or-more-in-a-lifetime experience in Times Square of the New Year count-down and fireworks while others attend the theatre opera, ballet or have fun ice skating at one of many outdoor rinks. It's also a great period for families to touch base.
Low Season
Late December to end of March, early April is the best time to grab a cheap flight and a reasonably priced hotel for New York City, other than on Valentine's Day. Even though it's cold and windy, you'll enjoy exploring the city sights as long as you're well layered and wrapped with a nice long coat and shoes that don't leak.