Flights To Kimberley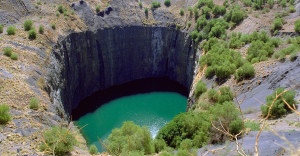 In most people's minds the mention of Cheap Flights To Kimberley brings visions of sparkling diamonds and an enormous hole but visitors are pleasantly surprised with its wealth of history besides mining. In semi-desert terrain, Kimberley is capital to the Northern Cape Province.
Accommodation comprises a variety of 3-Star B&Bs, guest houses and the historically renowned 4-Star Kimberley Club boutique hotel. Founded in 1881, it accommodated royalty, Governors and high commissioners with Cecil Rhodes and Ernest and Harry Oppenheimer being past members.
R7 buys you a ticket on the only working tram in the country to the Kimberley Mine Museum, adjacent to the Big Hole. Experience an edifying guided tour on Kimberley's diamond history and gaze down in awe at the green murky waters of the Big Hole from a viewing platform. The 'Old Mining Town' has 40 original and model buildings complete with shops, offices and items dating back to the early days of Kimberley.
The Africana Library provides a wealth of information in archive material related to the diamond industry, missionary work and SeTswana books. Two of its most renowned books are the 1829 copy of Dr Moffat's translation of the Old Testament into SeTswana, the first Bible printed in Africa and a 1st edition of Schedel's 1493 Nuremburg Chronicle. The McGregor Museum includes two rooms from the original house that Rhodes built with interiors as they were when Rhodes lived there.
Art connoisseurs will especially appreciate the William Humphreys Art Gallery that is home to superb examples of 16th and 17th century art by Dutch, English and French masters. Drawing much interest is a remarkable rock engravings collection that traces ancient San engravings far back to 12,000 BC, with photos and examples.
To the east of Kimberley is Belgravia, where many wealthy miners built their grand Victorian homes. A two kilometre historical walk takes you through the area with stops into 'Rudd House' and 'Dunluce', both national monuments. Belgravia is home to the 'Duggan-Cronin Gallery' that has an impressive collection of 8000 ethnographic photographs taken by Alfred Martin Duggan-Cronin between the years 1919 and 1939.