Cheap Flights to Dubai
Dubai surpasses the imagination in architectural design with its mass of bold skyscrapers reaching towards heaven, one as impressive as the next. You might imagine you're landing in Las Vegas but for the lack of neon-lit signage, casinos and dancing girls but still, Dubai is an exciting city that keeps you enthralled from dusk to dawn.
Climate
The warm season from late May to late September has temperatures above 37°C with July experiencing highs of 41°C and lows of 31°C. Dubai's cold season from early December to early March has temperatures of below 27°C and its coldest days during late January encounter lows of 15°C and highs of 23°C. The shortest day for sunlight is 21st December with 10.5 hours while the longest is 20th June with 13.4 hours of sunlight.
Why visit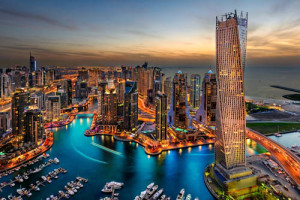 For budget travellers summer is the cheapest time to visit with loads of bargains but it's hot! Ideally the best time to visit is November to March when temperatures are moderate with a possible overcast day and rain.
Visitors have a great choice of hotels from luxury, medium or cheap. Luxury tariffs start from £245 with some offering tented accommodation, plunge pools and sunset camel rides while others offer family-friendly accommodation in ultra-chic villas with superb restaurants and bars. Rates from £37 will accommodate you in a medium range hotel and for £23 you can stay in a cheap hotel.